Today our first big snow of winter has arrived giving Sweet Willy a blanket of white.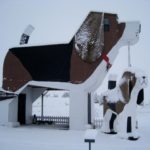 The big beagle hibernates until April 2017 when our lodging season re-opens. He housed a full calendar of guests all season long this year. Reservations for next season, our 15th, are coming in earlier than ever. If staying a night or two is in your plans for 2017 we suggest early reservations before Sweet Willy's date book fills up. Our availability calendar is viewable from our home page;  just click on the top header words "Visit our Available Calendar."
Dennis & I have been busy creating our chainsaw carved dog sculptures to fulfill holiday orders. Checking our list of available dog breeds may turn up a dog you've wished we made. Newer additions include Yorkie & Shiba Inu, for example. If there's a breed you don't see, feel free to drop us an inquiry email to frances@dogbarkpark.com.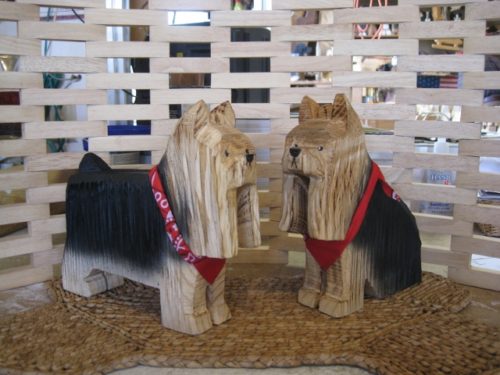 We keep an inventory of many small-size dog carvings in stock, making quick shipping an easy option for last minute orders. We're happy to mail carvings directly to a gift recipient with a personalized card containing your message included at no extra cost. Just let us know details.
We can't end this newsletter without telling you a bit about our personal lives. Many of you may remember Sprocket, our ambassador golden retriever. He turns eight in January & has become white around his face. Although he does enjoy taking longer naps, he always cheerily wakens to greet visitors with a tail wag & eager eyes.
There's a new building at Dog Bark Park. After 19 years of commuting, we now live on campus. Dennis designed and built our house himself. The entire project was a tremendous amount of hard physical work taking nearly a year to complete. Since every structure at Dog Bark Park has a name, our home is called True North. We love the 1-minute walk to work!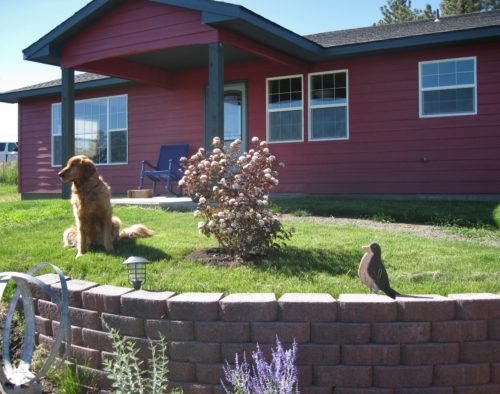 We wish you a very pleasant holiday season and good New Year. We thank you all for visiting in person, on-line, via phone or snail mail.
We'd love to hear from you with your news, photos, or anecdotes about Dog Bark Park.