Hello from Sweet Willy,
It's almost spring in Idaho!  That means we've been working behind the scenes on projects before all the busy activity of summer arrives.  This newsletter covers the following topics:
– Dog Bark Park book is finally published.
– What's new at the inn & the park.
– Launch of From the Mouth of the Dog.
When we last wrote in November we mentioned winter snow was just approaching.  Now, we can truly say this was the snowiest winter ever at Dog Bark Park and for most of Idaho as well.  Snow remained on the ground from early December until just a few weeks ago.  About 87 inches total accumulation meant lots of shoveling!
We have a book!  At long last we have completely re-written and expanded our earlier booklet about the history of Dog Bark Park.  Sweet Willy: A Noble & Absurd Undertaking tells the ideas and history of our founding twenty years ago.  It's a story of a one-of-a-kind business established with no guidelines other than those of a couple (Dennis & me) to carve out a livelihood and life together.  With many photos, the 64-page volume also includes thoughts about business and life in general.  For more info or to order kindly visit this link on our website.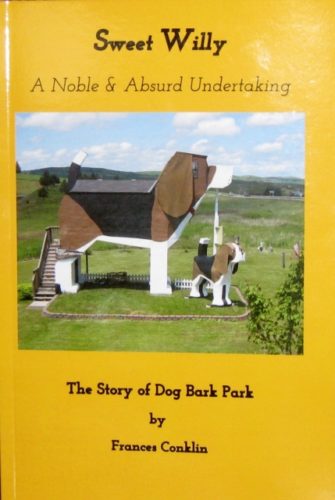 We look forward to awakening Sweet Willy from hibernation in anticipation   of  the arrival of our first guests of the season in a few days.  Reservations are coming in at a good pace.  Visit our Availability Calendar to view open dates.  New amenities at the big dog include handy USB charging stations, new toasty warm blankets, expanded snack & breakfast selections, and new books & games in our guest library.
The Chainsaw Art/Gift Shop portion of our website will be better functioning on mobile devices sometime in April.  We're happy about that and apologize for taking so long to make the upgrade.  Other new endeavors are on the horizon at Dog Bark Park.  Details are still fuzzy.  We'll have more in future newsletters, or check our Facebook page from time to time.
Ever wondered what to do while visiting Cottonwood and environs?  We have answers in our new From the Mouth of the Dog series.  We explore three activity topics in this issue.
Like craft beer?       Two are nearby, one in town & the other 7 miles away.
Wolf Track Brewing & Tasting Den – Cottonwood Idaho
Trestle Brewing Company – Ferdinand Idaho
Like to hike?   Choices include hiking along big rivers and smaller ones. Along streams.  In high country
                                 or lower elevations. In trees or out in the open.  All day or shorter walks.  We have
suggestions and maps to get you there!
Like rodeos?    There's a choice of seven in the area.
Riggins Rodeo – May  rigginsrodeo.com
White Bird Days Rodeo – June  whitebirdrodeo.com
Kamiah Clearwater Valley Rodeo – June   kamiahchamber.com
Grangeville Border Days Rodeo – July  grangevilleborderdays.org
Winchester Rodeo – July  craigmontareachamber.com
Weippe Wild Rodeo – August  facebook.com/wildweipperodeo
Lewiston Round Up Rodeo – September  lewistonroundup.org
Future topics of From the Mouth of the Dog will include Museums, Movies, Eateries, Wine, Rafting, Thrift stores, Quilt shops, and more.  Can't wait?  Contact Us or peek into VisitNorthCentralIdaho.com.
May your spring blossom with all good things.   We thank you for visiting in person, on-line, via phone or snail mail.  We'd love to hear from you with your news, photos, or Dog Bark Park anecdotes.
Frances Conklin & Dennis Sullivan
2421 Business Loop 95
Cottonwood Idaho 83522
208 962-3647      facebook.com/dogbarkparkinn        www.dogbarkpark.com