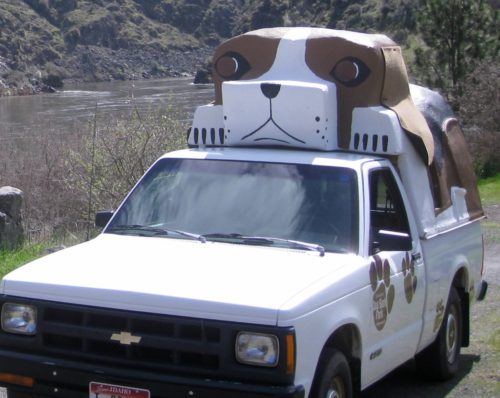 Meet Roamer, the travelling pup who will be bringing weekly stories of his travels in and around Cottonwood, Idaho.
Each episode will feature scenery, activities and places in north central Idaho.  This is the area from Riggins to Moscow, Idaho and from the Montana line to along the Clearwater River & up onto Camas Prairie at Cottonwood where Roamer lives at Dog Bark Park when he's not travelling.
Dennis, Frances & Sprocket will accompany Roamer on his adventures to discover both popular and little known places.
Roamer's Travels – Episode 1 
On a recent spring day we headed for Pine Bar Recreation Area on the Salmon River.  Pine Bar lies along the Lower Salmon River surrounded by semi-arid mountain peaks.  It is a frequent put-in location for summer & fall floating the Lower Salmon via raft or power boat.  Visitors can camp, fish, bird watch, swim or picnic here, too.  But first, before reaching the river there were interesting stops along the way.  Once leaving Hwy 95 three miles south of Cottonwood we turned onto Twin House/Graves Creek Road.  After a few miles we leave the open prairie lands and begin descending into Graves Creek canyon along which flows little Graves Creek.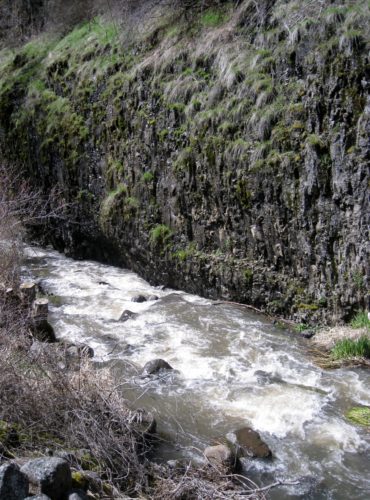 A short distance down Graves Creek road, about 7 miles from leaving Hwy 95, we came to the Weis Rockshelter where there is a Nez Perce Nat'l Historic Park interpretive sign about the shelter which was backfilled after archaeologists excavated the site in 1962.  Quoting from the sign:
Ancestors of today's Nez Perce used this cliff alcove as a dwelling place for more than 8,000 years. The many tools, spear points, and fish and animal bones found here indicate a life of successful hunting and fishing. Inhabiting the area continuously for millennia, the Nez Perce can say of their lands, "We have always lived here." 
The artifacts unearthed at the time of the archeological dig are stored at the University of Idaho in Moscow, Idaho 90 miles north of Cottonwood.      The dark area in the photo center is what is now only a shallow overhang of the rock after the alcove had been filled in to protect artifacts still present in the shelter.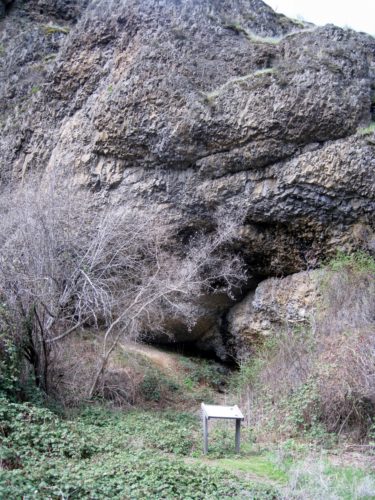 Episode 1 concludes with Roamer contemplating what life for a dog might have been like here 8,000 years ago.  Certainly he would have had plenty of country in which to roam and most likely food enough to keep a pup happy.